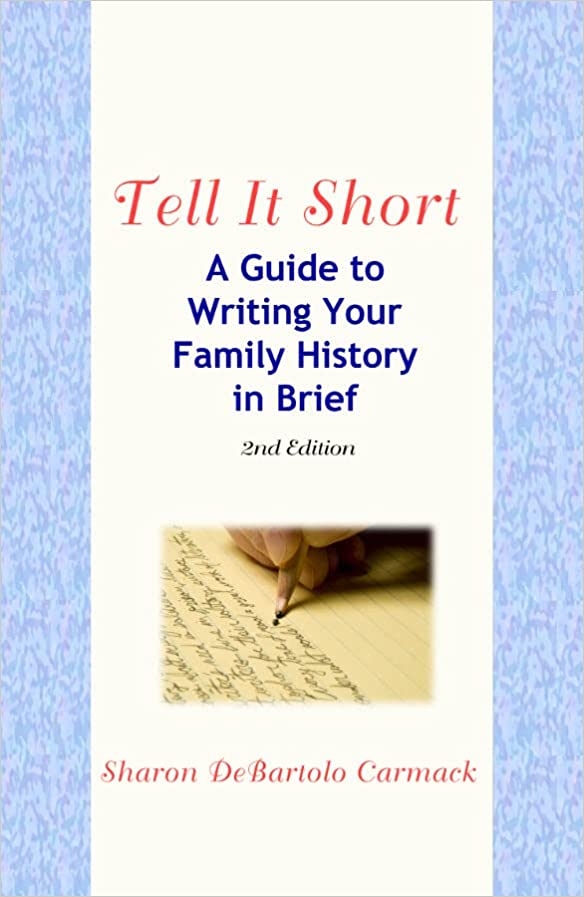 Does the thought of writing your family history send you straight back to bed to hide under the covers? You're not alone. Most family historians agree that they enjoy research the most. What if there was an easier, more manageable way to share your family history, while telling the life stories of your ancestors in an interesting and factual way? There is. 
Tell It Short: A Guide to Writing Your Family History in Brief comes to the rescue, guiding and inspiring you to craft family history essays—the nonfiction version of the short story. Tell It Short gives those interested in writing their family history an alternative to the all-encompassing book by exploring the creative nonfiction essay form. This guide will show you how to share the stories of your ancestors' lives in a completely factual yet compelling manner. You will learn about 
key elements of effective nonfiction storytelling 

ways to put ancestors into historical context without fictionalizing 

methods for using appropriate speculation 

several categories of family history essays: memoir, personal, humor, travel, food, and literary journalism 

strategies for revising, editing, and proofreading.
Tell it Short contains helpful instruction, examples, and ten sample family history essays by Dinty W. Moore, Rebecca McClanahan, Sonja Livingston, and more. This guide will help you take your family history writing beyond the traditional begats into short works your family will enjoy reading.
Carmack is a professional genealogist of the highest caliber and has long focused on teaching that craft…. She organizes her book in two balanced parts: (telling) writing instruction and (showing) example essays. While much of her writing advice will appear as chestnuts to those in MFA programs ('A story needs conflict.'), her advice is well-spoken to the would-be family historian. To this, she adds concerns from a genealogical perspective (cautions about speculative writing, about revealing details of the living) which is apt for any creative nonfiction work. She focuses in on subgenres: the literary journalism essay; the personal essay; and essays focused on humor, travel, or food. In each case, she illustrates her points using specific examples from the included essays. Readers will flip back and forth between the sections as they read. Brief chapters on the mechanics of writing (overcoming writer's block, revising) conclude her first section. The second half of Tell It Short includes 10 previously published essays from six authors. All are enjoyable and one, "Switched at Midlife," originally appeared in Hippocampus Magazine. Two of the other essays, authored by Carmack, are distinguished by the extensive footnoting characteristic of a certified genealogist holding to a higher standard than traditional creative nonfiction requires.
—Tony Kapolka, Hippocampus Magazine
Sharon DeBartolo Carmack is an accomplished, thirty-five-year veteran Certified Genealogist® and independent scholar who writes historical biographies, family histories, and guidebooks. The author of twenty-eight books, she holds an MFA in Creative Nonfiction Writing and is part of the English adjunct faculty for Southern New Hampshire University. Her work has appeared in almost every major genealogical journal, as well as Brevity, Creative Nonfiction, Portland Review, Hippocampus Magazine, Phoebe: A Journal of Literature and Art, Steinbeck Review, and Literary Hub, to name a few.