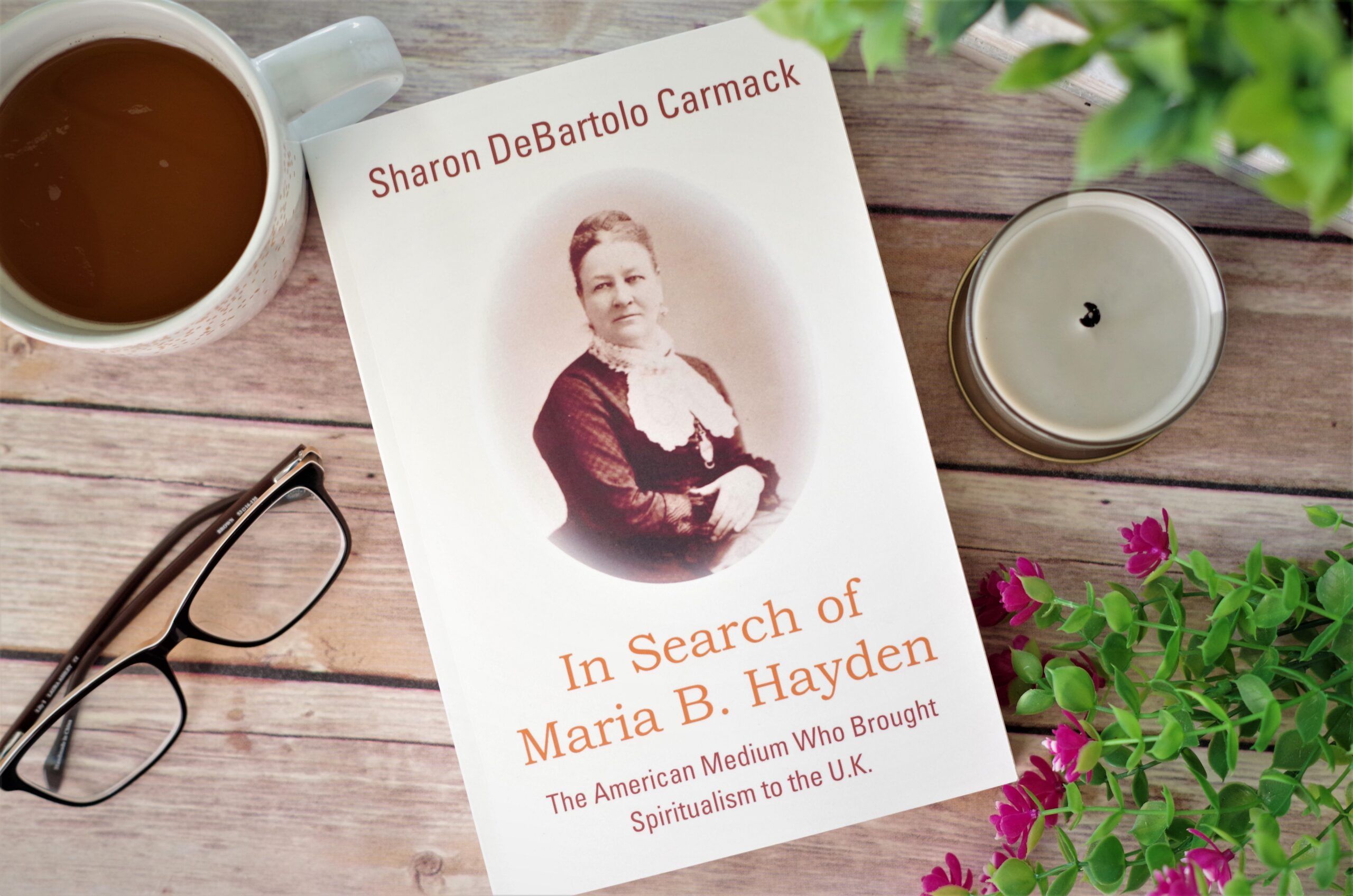 For an autographed copy (US orders only), please order from Scattered Leaves Press. If you live outside the US, Sharon is happy to mail you a signed bookplate to affix to the inside cover of your book. Please email Sharon with your name and mailing address.
Maria B. Hayden, M.D.
 She was revered—and disdained. Maria B. Hayden of Boston and later New York City was the first American medium to introduce the religion of Spiritualism to the U.K. in 1852–53. Through her séances in England and America, Maria's spirit communication convinced many of the elite and upper classes, as well as scientists and the clergy, that there is life after death. In a day when women were to be deferential to men, Maria forged ahead despite her critics, managing successful careers as a spirit medium, a healing medium, a clairvoyant physician, a psychometrist, and a medical doctor.
In this definitive biography, Sharon DeBartolo Carmack rescues Maria from the mists of Spiritualist history, not only returning her to her rightful place as an important pioneer, but also providing an engaging portrait of this remarkable woman. Carmack masterfully weaves together previously uncovered archival, historical, and family documents with the social history of the Spiritualist movement to tell Maria's life story.
This biography also includes accounts of more than thirty of Maria's seances, 130 illustrations, and appendixes with reproductions of her medical articles, a handwritten spirit communication from one of Maria's private sittings, and fully documented Trenholm and Hayden genealogies.
In Search of Maria B. Hayden: The American Medium Who Brought Spiritualism to the U.K., 2020, 600 pp., 130 illus., notes, bibliography, index. ISBN 978-0-9972076-4-4.
 For more about Maria, hover your cursor over the Maria B. Hayden tab above.
"Beyond Arthur Conan Doyle's two-volume History of Spiritualism and a handful of other encyclopedic overviews of [Maria B. Hayden's] life, relatively little comprehensive biographical material has been written about Hayden. As a professional genealogist and author of more than two dozen books, Carmack admirably fills this void, providing readers with a thorough biography that offers an engaging narrative, backed by robust, detailed footnotes that dispel myths and add new details to Hayden's story. An impassioned, comprehensive biography of an understudied Spiritualist leader."
—Kirkus Review
"It is only right that [Maria's] life should be celebrated, and the book does this through previously unpublished information, images and illustrations that help to bring to life the work of this pioneer. Maria's life isn't presented in isolation, and through the book we also learn much about its context, and the Spiritualist movement at the time."
—Spiritualists' National Union
SNU Today
"The page count should not intimidate potential readers. The author's writing style, numerous illustrations, and fascinating lives of Maria and her husband make for a quick read."
—The New York Genealogical and Biographical Record
"Sharon Carmack, a well-known genealogist, has written a brilliant biography of Maria's life…. This impressive book opens to readers a fascinating window on Spiritualism in the nineteenth century, as well as the life of a leading figure in Spiritualism."
—New England Historical and Genealogical Register